Allegiance was a Broadway musical about Japanese-Americans who were interned in the United States during the Second World War.
On 6 October last year, my friend JJ and I went to the first preview.
Four months later, it closed.
Broadway has revivals …
… plus a show that's been around so long that it could have been closed and revived more than once …
Broadway also has a musical that calls itself 'new', but has songs older than the parents of the people who perform them.
Allegiance really was something new.
Though not totally so.
Like many musicals, it took a long time to get to Broadway. More than two years before that preview, JJ and I saw one of its stars – Telly Leung – do a cabaret show at The Hippodrome Casino in London. He performed one of Allegiance's numbers and spoke with such enthusiasm about the project, including how he hoped it would end up on Broadway.
I can appreciate that the people who finance big productions are often risk-adverse. There aren't too many other ways to lose money faster than burning a pile of cash in a rubbish bin.
The commercial failure of Allegiance may not do much for innovation or creativity.
What went wrong?
Not the cast.
It's dangerous to sit next to JJ when Telly Leung is on stage.
I've done this twice now, and both times I risked slipping over large piles of saliva drool. Mr Leung is cute and charming, and he can sing!
Lea Salonga was the original Miss Saigon, though I recognised her from her work with Julie Andrews in the 'sublime' 1992 recording of The King and I. This was an important moment for Julie fans, as our faith in her was being seriously tested. Her movies were going pretty much straight to video, but even video didn't want to know about her sitcom.
The other star was George Takei, who I'd not really heard of, but it seems that everyone else had because he was (a) in the original Star Trek series and (b) a gay icon.
I was always a Doctor Who fan (even when the controversial John Nathan-Turner produced the show), and I can be a terrible homosexual. But I found him endearing in the dual roles of the wise, wry grandfather, and the brother who gets a chance to forgive.
What about the songs? I only remember 'What Makes a Man', but it made for one or two Telly Leung drool moments, and I'm finding it hard to remove it from my mind.
So why, then, did Allegiance lack the allegiance of the theatre-going public?
Perhaps it was the location. Not too many musicals are set in concentration camps, although if they did a sequel to The Sound of Music, maybe that's where you'd find the nuns, for getting sprung helping the Von Trapps escape.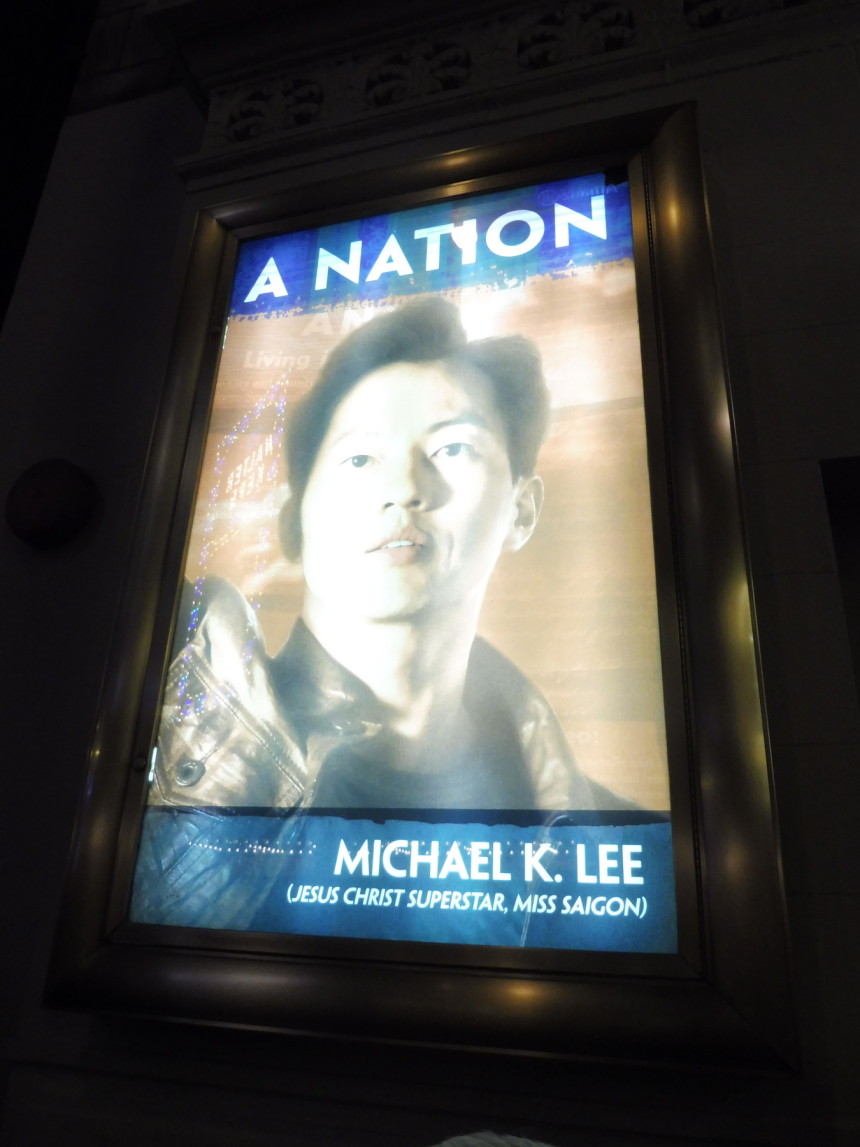 Other artistic works have successfully dealt with people being interned in the Second World War, but as part of a bigger story.
The movie Tea With Mussolini featured English and American women being 'enemy aliens together' in Italy, but Maggie Smith was one of the English women, and Cher one of the Americans. Plus it had Judi Dench, Lily Tomlin and Joan Plowright. With that cast, no-one noticed the calendar going straight from 1941 to 1943, unless, like me, you loved it so much that you saw it five times (or was it six?) at the cinema.
Another film – Nowhere in Africa – was about a German-Jewish family escaping the Nazis by moving to British East Africa, only to find themselves interned when the war started. Despite the serious overtones, the movie used humour well. The enemy alien women were forced to stay in a hotel that refused to lower its standards, serving lavish food for them in very comfortable surroundings.
Deborah Burrows touched on the internment of Italians in Western Australia in her debut novel A Stranger in My Street. Last year, I went to the launch of her third book, and there are more on the way.
Die-hard fans of two-time Oscar® winner Christoph Waltz would know that in the 1980s, he played a German immigrant to the Barossa Valley, who dies in the First World War in an internment camp run by a sadistic guard. But this was just one part of a family saga with beautiful scenery and interesting characters (including his father-in-law's mistress, the most sympathetic 'other woman' that TV's ever had).
One problem with Allegiance is that it didn't properly explore the possibilities suggested by the title. When Telly Leung talked about the show in London, he said how these people had been imprisoned because of the colour of their skin. I'm not sure about that. Chinese-Americans didn't get interned, because China and the United States were fighting on the same side. Allegiance mentioned how some of the detainees had relatives back in Japan, but only in a throwaway line. How much more interesting to have, say, a woman with a brother in the Japanese navy and a son in the US army? What sorts of conflicting allegiances would that have caused?
Much was made of how bad things were in the concentration camp, but little (if any) comparison with what was happening on the other side of the Pacific. The internees in Allegiance were allowed to hold a dance night. I couldn't imagine that happening to POWs in Burma.
In Tea With Mussolini, Maggie Smith, Cher et al could have made reciting the alphabet entertaining, but better still, they spoke lines written by John Mortimer of Rumpole of the Bailey fame. Telly Leung, Lea Salonga et al were lumbered with clunky dialogue. I was only watching a preview, but Allegiance had been in development since 2008 and was performed in San Diego in 2012.
Very few writers are talented and lucky enough to work on a Broadway musical. Those who do, owe it to those who don't, to make the dialogue as good as it can be.
Any positives?
Absolutely.
Like any fan of Julie Andrews circa-1992, I look for good things in bad situations. I've already mentioned some.
George Takei's most famous role involved a spaceship called the USS Enterprise. Perhaps Allegiance shows the harsh strength of the philosophy that is US enterprise. If the public doesn't want to see a show with significant flaws, then maybe it should make way for something that could do better?
But there was enough in Allegiance that made me wish it could have run a little longer.
The biggest plus was it proved that Telly Leung could carry a Broadway show. I hope I get more chances to slip over JJ's drool.