About Michael from Perth
You may know me for my sellout one man shows:  How to Write a Tasteful Novel, My Argentina and The Sound of a Social Climbing Nun.
But wait! There's more!
I'm also a tasteful writer, board game inventor and failed Big Brother auditionee. I proved my credentials as a serious lawyer by appearing in a blue wig as a 'real life queen' on Rose Hancock Porteous' reality TV show, judged by The West Australian as the worst of 2002. I wrote The Naughty Play, which played to packed audiences in the Blue Room Theatre. I devised and performed Henry VIII & Other Gossip, and penned articles for a national gay magazine – including one on Argentina.
I went to Argentina for a wedding. The visit sparked what Professor Richard Bosworth described in The New Critic as a 'major social and intellectual interest' in that country, though some of my pursuits there have been decidedly more social than intellectual.
It was the first of seven trips to Argentina. I've been to its major tourist attractions, such as Iguazu Falls, Mendoza, Bariloche, Salta and the Perito Moreno Glacier, plus the places where only the locals go. My Spanish is good enough to gossip and argue. I've witnessed three elections and two presidential inaugurations, and sung with B-list celebrities in front of C-list soap opera stars.
In Buenos Aires, I reluctantly conceded that Volta's banana split ice cream was tastier than Freddo's. When visiting the Tierra Santa religious theme park, I found proof that the Garden of Eden contained a gym before watching one of the hourly resurrections that compete with the sound of landing aeroplanes. I've seen some things that a woman is s'posed to see, but very few do. I've also been to paradise – namely Paradise Harbor, in the part of Antarctica that Argentina claims.
I was caught up in the riots during a visit by George W Bush, and was walking through Plaza de Mayo as demonstrators burnt down the main Christmas tree of Buenos Aires. At my first of three gay pride marches there, I felt the blast of a smoke bomb and photographed a line of police guarding McDonald's. Worse followed, but I survived, and so did my love for Argentina.
I recounted some of my experiences in My Argentina, which sold out its run at Fringe World 2016. I sang about Argentina in my latest hit show: How to Write a Tasteful Novel.
I've set foot on all seven continents, but need to swim in the Arctic before I can say I've done all seven oceans.
I've combined my worldly adventures with an appreciation of cinema to unlock the secrets of The Sound of Music. I understand the tactics used by Maria to steal the Captain from the rich, sexier Baroness, and know which family member would have been eaten at the end, when they were stuck up a mountain without food or water. I shared these and many other important theories and encounters – including the 45 seconds I spent with Julie Andrews (for which I paid $500) – in The Sound of a Social Climbing Nun – a smash at Fringe World 2017.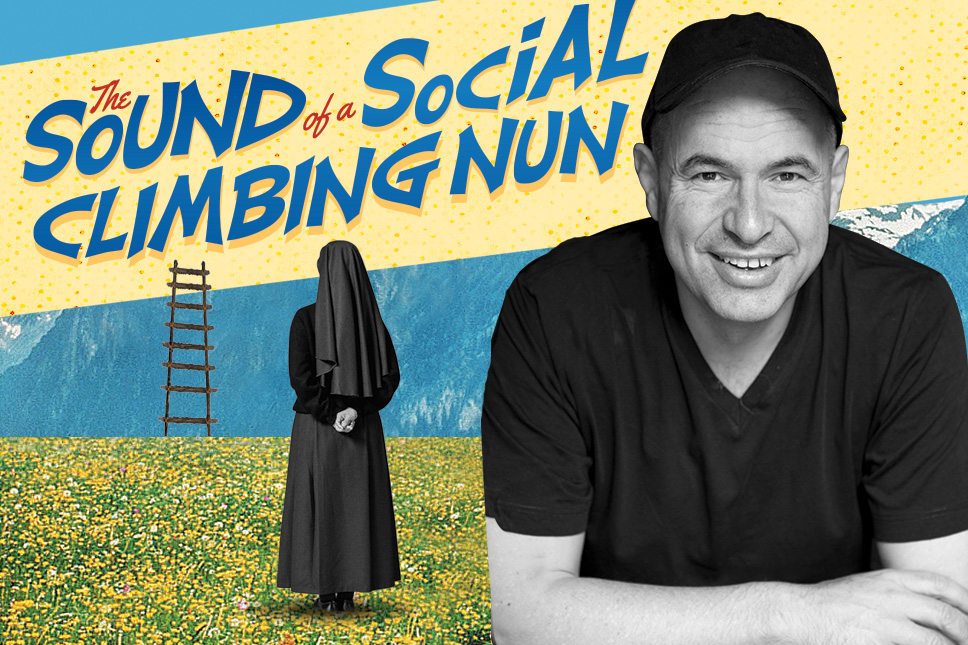 I can explain the result of every UK general election of the twentieth century and list Chris Evert's grand slam triumphs in order (plus those she might have won had she competed), but also have 52,000 Ansett frequent flyer points and reminders of the three-year fixed interest home loan I took out just before the GFC sent rates (and egos) tumbling.