Twenty-three years before we were in the above photo, my friend Paula flew home from Perth to Buenos Aires, via:
Sydney
Auckland
Tahiti
Easter Island and
Santiago.
On my first trip to Buenos Aires in 2003, I was happy when I only had to stop at Sydney and Auckland.
Ditto for 2005. Even happier on the way back, when I sat at the back of the plane, wondering when all the people were going to arrive on board and sit in those vacant rows of four seats, and they never did. Aerolineas Argentinas doesn't offer that flight anymore.
In 2007, I got there via Singapore, London and New York City, but that was part of a round-the-world experience.
In 2009, I only had to stop at Sydney. Wow: Sydney straight to Buenos Aires! Around that time, I looked at a globe and thought that it wasn't all that far between Perth and Buenos Aires if you could fly direct between the two, over Antarctica. But that was never going to happen. Qantas no longer flies non-stop to Buenos Aires.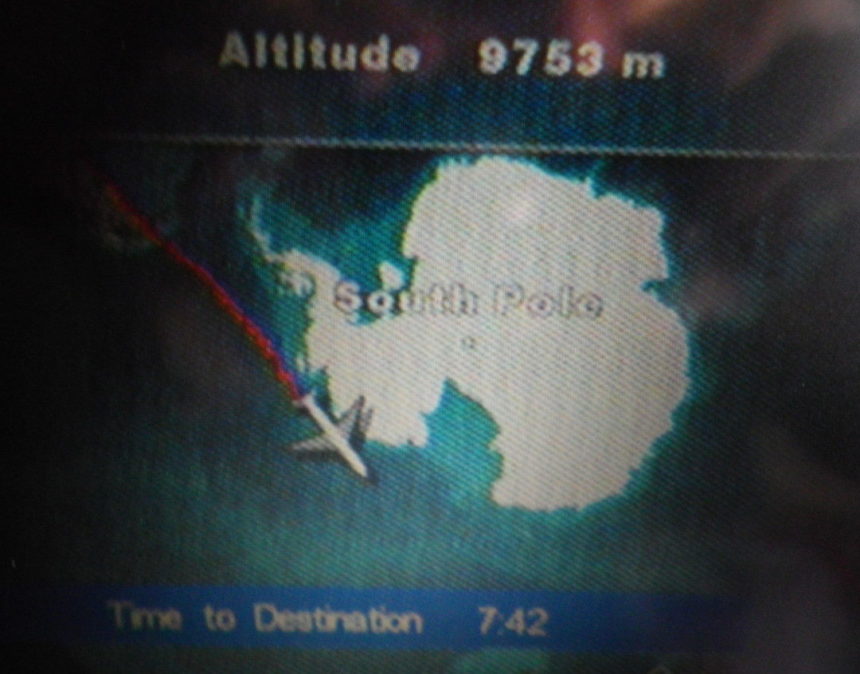 Going via Kuala Lumpar and Cape Town in 2011 wasn't the most direct way to Buenos Aires, but I'd never been to Africa, so stopped there for a week, and this meant I'd set foot on all seven continents. Better still, I beat my friend Lyn to that feat by a month. Malaysia Airlines don't do that flight now.
I tried booking my January 2013 trip with Qantas and thought –  even though it's peak season, it's only $2,000 – oh wait, $2,000 one way. I went Emirates instead, via Dubai and Rio de Janiero – well into the northern hemisphere and back. That one took about 33 hours, though it meant I could stop off at Rio on the way home.
I was due to go the same way in 2015, but on the day of the flight, a blood test came back showing that my appendix was registering 40 on some scale, when it should have been only 5. The idea of flying over Uganda with a grumbling appendix was perhaps not the most appealing I'd ever entertained, so I swapped late night tango bars for watching Eggheads on the ABC while recovering from my appendectomy.
Air New Zealand meant that it was only 19 hours from taking off in Perth, to touching down in Buenos Aires, with Auckland as the only stop, though it took 25 hours in the other direction.
But although not all the approvals have gone through, according to The West Australian newpsater, it looks as though Norwegian may soon fly from Singapore to Perth.
And then non-stop, over Antarctica, from Perth to Buenos Aires.
Perth to Buenos Aires, in less than 15 hours.
At first glance, it does seem odd route for an airline called Norwegian, even though its subsidiary is called Norwegian Air Argentina. It'd be far quicker to fly from Oslo to Buenos Aires via Paris or Madrid than to go through Singapore and Perth.
But I have actually flown Norwegian once, from the Canary Islands (which are part of Spain, off the coast of Africa) to Munich. I though that was an odd route for them. I wondered in what language the announcements would be made: German? Spanish? English? Norwegian? (I can't remember, except I know English was one.)
It's a low cost airline, but I didn't mind my flight because I had an exit row seat. Hopefully, they'll let you pay a bit more to get that.
The time of departure could also be important. If the plane leaves Perth at, say, midday, it means I'd arrive in Buenos Aires around 3pm Argentine time, or 2am Perth time.  I wouldn't need to sleep much then. But if it leaves around midnight Perth time, that's a whole different story.
It would also mean that door-to-door, it'd only take an hour or so more to get there than if my friend JJ was flying there from New York City, though unlike him, I'd have to cope with the jet-lag that comes from an 11 hour time difference. But jet-lag has given me the opportunity to see Buenos Aires at a time of day when most people don't.
It'll mean that a two week trip to Buenos Aires may become much more viable.
The same page of the newspaper also had an article about the non-stop flights Perth to London flights that start later this month.
Maybe Perth will no longer be the most isolated capital city in the world. Perhaps, though, we should enjoy it while (and if) it lasts. If non-stop flights from Singapore to Buenos Aires ever become viable, not too many passengers may want to touch down in Perth for sentimental reasons.