Earlier this year, I saw 28 of the movies at the Spanish Film Festival, which was a bit of a slide in form. I'd seen 30 in 2015.
I'm not quite so obsessed about the British Film Festival, which in any event doesn't have as many. But in addition to showing some interesting new films, it gives us a chance to see some classics that nowadays are rarely on the big screen.
One of the first records I ever listened to was the original cast recording of the stage version of Oliver!.
In my twenties, I saw a West End revival.
I'd seen the 1968 movie on video, but never at a cinema.
Until Saturday at Cinema Paradiso.
The late sixties was a wild time for movie musicals.
Oliver! became the fourth in eight years to win the Oscar for Best Picture, but in the forty-eight years since, only one – Chicago – has been similarly honoured.
At the same ceremony, Barbra Streisand won Best Actress (tying with Katharine Hepburn) for Funny Girl, but she followed it up with Hello Dolly! – an expensive flop. Her next picture – another musical – also didn't fare too well, and she's only made another three in the rest of her career, at least so far.
Julie Andrews went from being the world's number one box office star to box office poison by starring in two flop musicals, although the genre was not entirely to blame. Playing a drunken bad mother and a stripper who showers with Rock Hudson probably had something to do with it.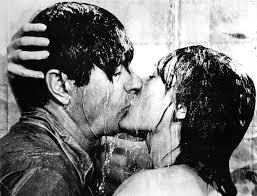 Around this time, Joan Collins appeared in a fantasy musical with her then-husband Anthony Newley, who as a juvenile had the Artful Dodger in David Lean's straight film version of Oliver Twist. It was called Can Hieronymus Merkin Ever Forget Mercy Humpe and Find True Happiness?, had a storyine far too close to their deteriorating marriage and didn't help the genre.
Oliver! was a runaway hit in a sea of expensive and bizarre flops.
The songs
Has any movie ever had a better collection than 'Consider Yourself", 'Where is Love?', 'Reviewing the Situation', 'As Long As He Needs Me' and so on? They're well placed to suit the different medium. On stage, 'Oom-Pah-Pah' is a lively start to the Second Act, but that would have slowed down the film. Instead, Nancy sings it as a way of diverting attention, so she can smuggle Oliver out to safety.
The movie drops some of the songs from the stage version. 'I Shall Scream' is a fun and flirty number, but it wouldn't have suited the serious Mr Bumble. On stage, Barry Humphries (yes that Barry Humphries) sang 'That's Your Funeral'. It would have been interesting to see him do the same on screen, but the section before Oliver gets to London is already too long and it isn't needed. Bill Sykes announces his evil presence on stage with 'My Name', but the movie makes it an instrumental and has Oliver Reed say nothing for several minutes after we first see him. The message: this man is scary and dangerous.
If they were remaking Oliver! on film today, would they do it better?
They'd probably reduce the length of some of the song-and-dance numbers, even though they won the choreographer a special Oscar, which is very rare.
And they'd cut most of the opening. The script lumbers Harry Secombe with a two-dimensional character, though he's given great opportunities to show off his singing voice, which he readily takes, particularly in the haunting 'Boy For Sale'. But things only really get going after we meet the Artful Dodger, Bill Sykes, Nancy and Fagin.
They might try to make some of the sets look more realistic, or film it more on location, but in my view the stylised backdrop of St Paul's Cathedral works well, and the labyrinth leading to Fagan's hideout has a dark fantasy feel to it.
But the point is they probably wouldn't make Oliver! on film today, because no-one makes movies like this anymore, which is why seeing it on the big screen was such a treat.