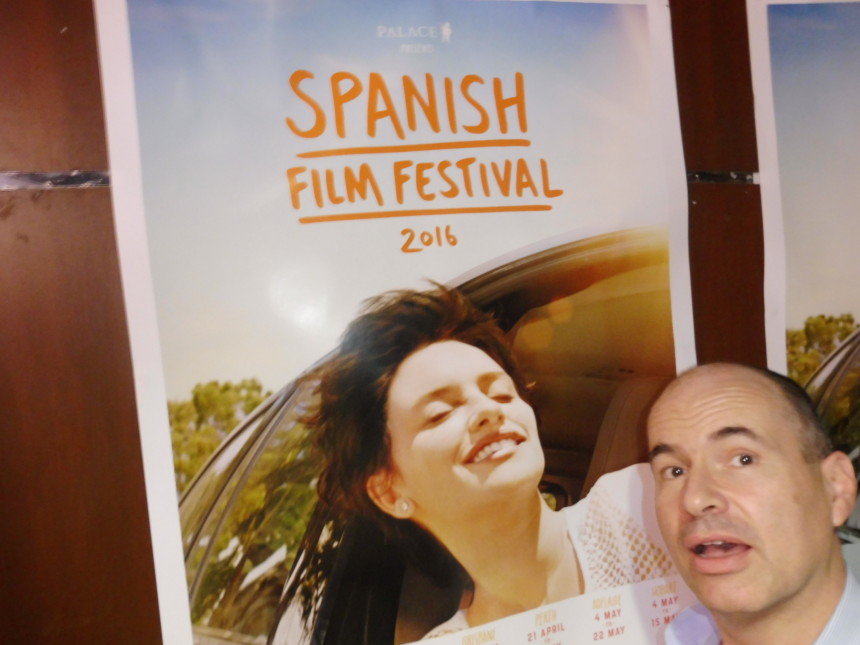 Tonight, I saw my 28th and last movie of the festival, down from 30 in 2015, but I think it still gives me some authority to make a few comments…
The tactful trailer
The trailer to Ma Ma suggested it was a heartwarming film about a woman (played by Penélope Cruz) dying of cancer, unexpectedly pregnant, with the chance to leave behind a baby sister for the son she loves more than anything in the world.
It didn't mention how many daddies the new baby had.
First there was her biological daddy.
Then there was someone who could have been her biological daddy but wasn't.
Plus someone else who could have been her biological daddy but wasn't.
And her de facto step-daddy.
Also mummy's gynecologist, who arranged for mummy briefly to meet the biological daddy and the other two potential daddies in a club where mummies and daddies don't normally go, and who was on extraordinarily good terms with the de facto step-daddy.
Oh, what the hell, I thought it was fun!
The chilling family scenes
One of the most memorable fringe shows I saw this year was Bunny's Killer Comedy. Annabel Holland played a knife-throwing psychopath murderess looking for love. What made her especially scary was that she was so sweet and demure between knives.
The Clan has mother cooking a tasty roast for her husband and children. Father helps his daughter with her homework. They're proud of their rugby champion son, who's met a delightful girl. Another of their boys talks about his exploits as a sheep-shearer. And in the bathroom, or down in the basement, is the latest rich person they've taken hostage and holding for ransom.
The funniest and eeriest prediction of Spain's future
The comedy Torrente 5: Operation Eurovegas is set in Madrid in 2018. Spain has been expelled from the European Union, the monarchy's gone, the World Cup final is between Argentina and the independent country of Catalonia, the peseta is the national currency and child labour sweatshops are thriving.
The happy ending that wasn't
The Thin Yellow Line was about five Mexican labourers who have 15 days to mark the lines on a highway. Sounds dull, but it was a good little road movie.
At the end, four of them congratulated each other on a job well done. A happy ending. Except for the other guy – a teenager – who's been killed in a crash. I suppose this made me think that workplace safety doesn't quite have the same priority in Mexico, but even still…
I liked this film, so I just chose to ignore the bit where the boy dies.
The director's trademarks
When I saw No Kids, it was pretty obvious that it had the same director as the 2014 festival's To Fool A Thief. The imaginative opening titles, the deceptive twists, the funny supporting part played by Martín Piroyansky and far less grunge than you actually see in Argentina.  Remember the name Ariel Winograd.
And remember Mario Casas
Last Sunday, he was a vacuous rock singer in the fluffy comedy My Big Night. On Tuesday, he carried the (almost three hour) epic Palm Trees in the Snow.
Ricardo Darín sightings
The Argentine starred in Truman (see below on the right).
In Torrente 5: Operation Eurovegas, he gave instructions on YouTube about how to fly a plane.
One of the characters in Happy 140 wanted to be in a movie with him.
Sadly, his guapo son (who caused one or two deaths in Death in Buenos Aires at last year's festival) did not make any appearances in 2016.
The movie I wasn't expecting to be much good, but was
This was hard for me to decide, because often I went in not knowing anything about the movie, not even the name.
I had my doubts about Happy 140, because it was on late at night. But it was a compelling look at greed and jealousy, and included one of the stars of Y Tu Mama También.
Most movies seen in one day
My friend Garry and I saw five last Saturday, which you can read about here.
The previous weekend, I saw four movies on the Saturday and four on the Sunday.
A place it's inspired me to visit
Menorca, although the men probably don't look like Tim Bettermann and Lluís Marqués, and may not be as willing to try the things that their characters in Isla Bonita get into.
A country it's inspired me to avoid
Lithuania. Cold and corrupt.
A country it's inspired me to change my mind about
Last year's movie Ciudad Delirio made me want to visit Colombia. After seeing Breathless Time, I'm not rushing.
A movie it's inspired me to see next
Possibly none!
Last year, after seeing 30 movies in 14 days, I didn't go inside a cinema for another three and a half months.
But Florence Foster Jenkins does look interesting…