The Edinburgh Fringe is the largest arts festival in the world. It was originally set up by people who didn't get invited to the Edinburgh Festival, but now it's largely overwhelmed the mainstream event. Perth's Fringe World festival is largely modelled on it.
The Edinburgh Fringe is open access, which means that anyone can put on a show, including amateurs, students and people trying to break into the entertainment industry. But it also can have highly experienced, successful and accomplished performers, such as Dame Diana Rigg (Olenna Tyrell in Game of Thrones).
The 2016 Fringe officially runs from 5 to 29 August, but some shows start earlier, so it's really on for about four weeks. Two years ago, I went for seven days. This is what I learned.
Tip #1: Get a group and an apartment.
The Fringe would have been very lonely (and expensive) if I'd gone alone. Instead, my friend Sam and I hired an apartment in Haymarket. His girlfriend (now fiancée) Susie and three other friends joined us for some of the tine. We saw some stuff together, but if there was something only I wanted to see, I went by myself, and we met up later.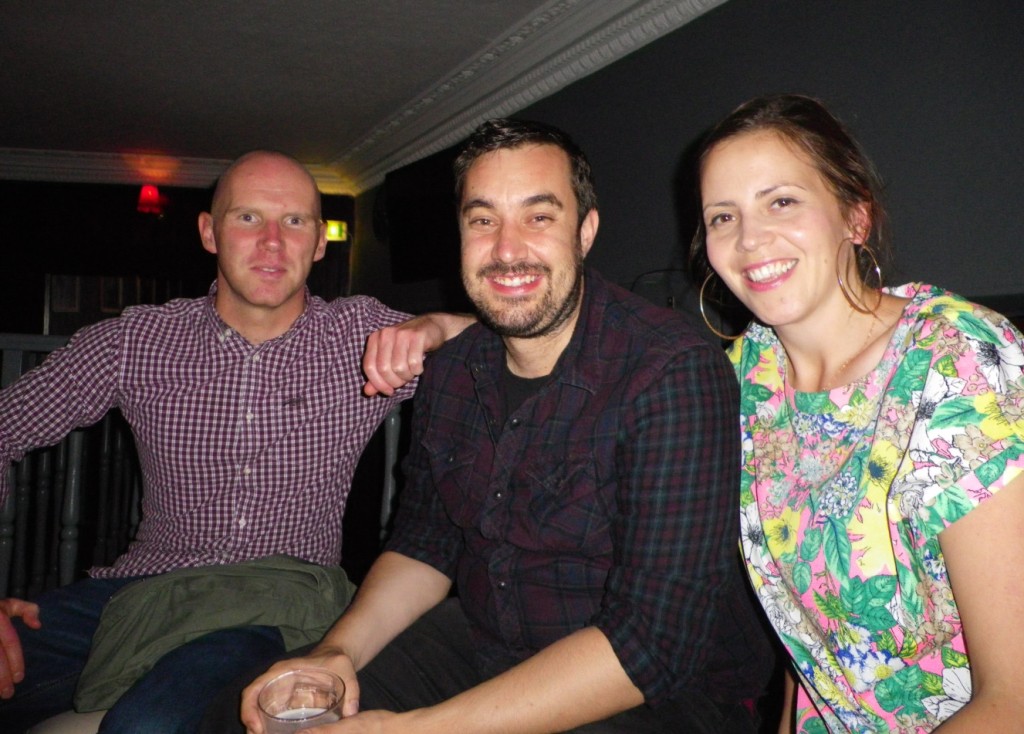 I had mixed feelings about Haymarket. It was about 35 minutes' walk from the nearest big clump of venues. I couldn't pop back to chill out for hour or two between shows. But I could and did walk everywhere, and my body was better for the enforced exercise. I might have felt differently if I'd been caught in heavy rain, but for the most part, it just drizzled, and my umbrella from the two pound shop kept me dry. And as I will explain, even the rain had its uses.
Instead of wasting time in a laundromat, I'd put my dirty clothes in the apartment's washing-machine-cum-dryer before going to bed. They'd be dry and clean when I woke up.
I did the Fringe as part of a six week trip overseas. When I'm away for that long, I like to make some meals myself, even if it's only breakfast. French cheese and fresh raspberries are cheap in the United Kingdom.
Tip#2: The only thing you need to book ahead is accommodation.
We booked the apartment in April, and that was pushing it.
If you're coming from London, it's cheaper to reserve the train ride early, but I left it until the week before I arrived and still got reasonable fares.
If there's a show you really, really want to see, book it before you get there, otherwise don't worry too much.
I never saw anything with allocated seating.
In The Only Way is Downton, one man did most of the voices in Downton Abbey, as well as Andy Murray, Boris Becker, John McEnroe, an Olympic gay diver and the British Bake-Off. Lots of jokes; plus a song and dance number. I booked one ticket for myself only a day in advance, even though it was (deservedly) very popular.
Margaret Thatcher decided to come back from the dead to become a cabaret star. On the Thursday we arrived, we tried to get tickets for all six of us to see Saturday's 9.10 pm performance of Margaret Thatcher: Queen of Soho. There weren't enough seats left for that, but we saw the 1.30 am show instead.
Tip #3: See some free shows and usually pay for them.
You could spend four weeks in Edinburgh and only go to free shows, which can't be booked in advance. My favourite was Dave Griffiths: C U in Court, about the comedian's long-running battle with French Connection UK, and the English King Cnut. (Yes, there was a King with that name, though when I was growing up, they tended to spell it Canute.)
I say 'usually pay' because you should not feel any obligation to give money to a nasty, talentless performer. Thankfully, Edinburgh doesn't have many of them.
I was once told: 'Everyone makes money from Edinburgh … except the artists.'
It's a bonanza for promoters, pubs and the people who rent out their apartments, but performers do well to break even at the Fringe.
Tip #4: Read the programme before you go and do a list of things to see.
A week seems like a long time, but do the maths.
There were about 3,193 shows in 2014. Most ran for about an hour. In theory, we could have seen ten shows a day, or 70 in total. That still would only have been 2.2% of what was on offer. I 'only' saw 28 – less than 1%.
When I recently searched on-line for 'All Shows' for the 2016 Fringe, I got 3,442 results!
Tip # 5: Sometimes take pot luck.
On our first day, I had my list, but didn't have much idea where anything was. Sam and I were on the Royal Mile. It started to rain. We took shelter in the nearest building: a hotel.
Sam said, 'I think that might be a box office over there,' and it was. We bought tickets to a show that was starting in ten minutes. We went into one of the hotel's meeting rooms, converted into a makeshift theatre, and saw A History of Falling Things.
It was about a guy and a girl getting to know each other online. They lived near each other and wanted to meet in person, but there was one problem. They both had a fear of falling satellites falling from the sky, and hadn't left their homes in years.
Despite the technology, it was an old-fashioned love story. No tawdry web-cam encounters, just two people frightened of much more than just objects from the sky.
Of the 27 things I saw afterwards, nothing moved me more.
A few times, when there were gaps between what we'd planned to see, we'd drop into a pub for a free comedy show. We risked getting our money's worth, but sometimes I learned more from bad performances than good, and they could make for interesting (read: bitchy!) conversations afterwards.
Tip #6: Go to a late night compilation show.
Sam and I saw Spank! one midnight. It was a dark, cramped venue with pillars and a low ceiling. At one point, one of the hosts felt the (very unnecessary) need to take off all his clothes. Someone threw a bottle at the stage and a gay guy (not myself) got a lap dance.
Okay, I'm not selling this too well, but a series of comedians gave us short samples of their work. One of them – Chris Turner – asked the crowd to call out random words or phrases, which he incorporated then and there into an improvised rap, with clever and funny rhymes. We liked it so much, we saw his show the next day, and again when he came to Perth's Fringe World the following year.
Tip#7: Centre your day in a small area.
It can easily take half an hour – or more – to walk between some venues. You can concentrate your day – or at least some of it – in one part of the city.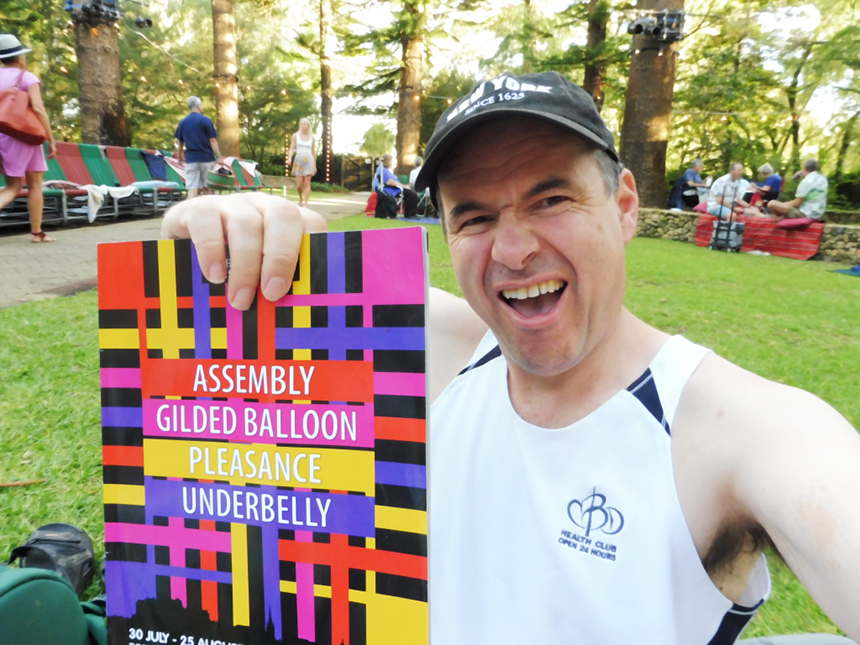 The venues in the above programme were all very close to each other.
In a lecture theatre, we saw a man act out all three original Star Wars movies in one hour.
Two minutes away was the tent where a man with a blouse, skirt and handbag – though maybe not a wig, as I think the hair was real – performed the Margaret Thatcher cabaret.
A hundred-odd metres up the road, the same man was the special guest in a show about queer people coming out. In full Thatcher costume, she read out the words of Harvey Milk and Boy George.
In a turret in the same building, we had a naughty American comedienne called Abigoliah Schamaun, while in the basement …
You could see shows all day in Edinburgh without ever setting foot on the Royal Mile.
Tip #8: See things from the other festivals.
The Edinburgh Fringe and Edinburgh Festival are only two of the festivals on in Edinburgh in August. Susie and I, for instance, went to the Edinburgh International Book Festival for a seminar on Scottish independence.
Tip #9: Use up your Scottish pounds before you leave.
English pounds are readily accepted in Scotland, but it's harder to use Scottish pounds in England. I could buy a ticket for the Gatwick Express, but the London Underground machines weren't so kind. My London hotel let me swap some; I went into a bank for others.
Tip #10: Go somewhere warm and sunny afterwards.
That's for another post. It's enough now to say that the photo above of me wearing a gym singlet was not taken in Edinburgh!