It's not very often I get gushy and sentimental, but it's also my birthday. If you're wanting something more, well, me, please click here.
I saw 30 movies in 14 days at last year's Spanish Film Festival in Perth. If you saw my Fringe show in February, you might remember three rather silly life lessons'I learned from that experience. For some months, I've been posting others. Here's the link to the first 18. Next week, I'll show you the whole list.
Tonight, my friend Lezly took me to Cinema Paradiso for a special journo preview of Truman: a 'special presentation' in the 2016 Spanish Film Festival. I'd planned afterwards to post a few more life lessons, but it's not that sort of picture.  Rather, it's about a middle-aged man visiting his best friend, who's dying of cancer.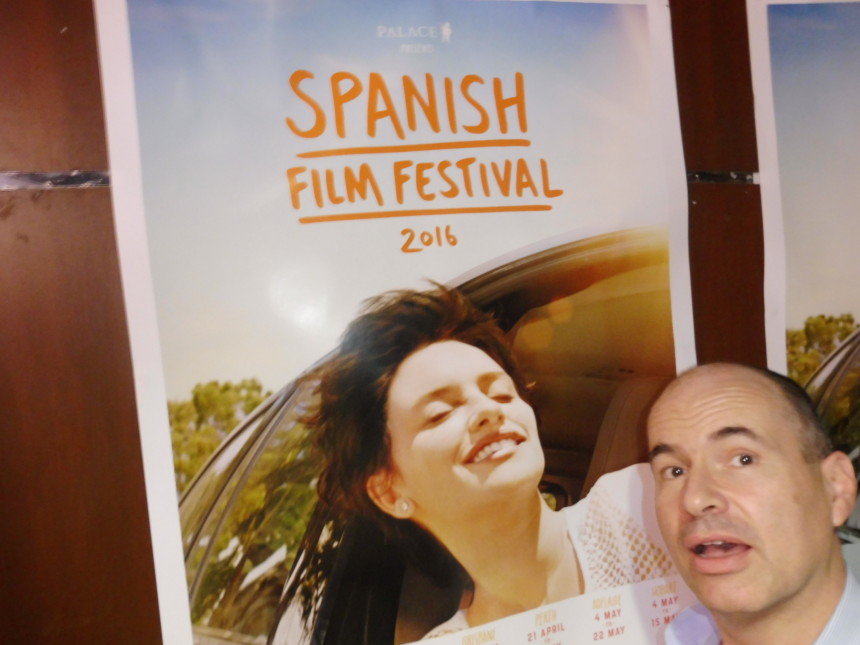 Lezly and I both have our birthdays today. I'm now 47. To paraphrase something my old friend Judy used to say, Lezly is 47 and some months. The day I turned 43 and she turned, well, a little more, we went to the same cinema to see The Way – about an American walking the Camino de Santiago after his son has died.
In both movies, a man travels from North America to Spain because of death. Both are carried by strong lead performances. The Way stars Martin Sheen; Truman has Ricardo Darín (from The Secret in Their Eyes) and Javier Cámara (who can now be forgiven for being in I'm So Excited – I wasn't).
Initially I thought liked The Way much more, because of the scenery; Truman is much talkier. But now that I'm home, I feel a sense of peaceful calm from what's essentially a love story between two flawed friends.
Not too many movies do that to me.
I like little things about Truman. It features a same-sex couple fleetingly, but nothing is said about them being lesbians. They just are. That may seem like nothing, but in how many movies, even today, does that happen?
It helps that I saw it with Lezly. We met 19 years ago at gay and lesbian boot-scooting classes. I was pretty awful at it (though wait until my next Fringe show!), but we've shared a lot over the years.
It also helps that I've been reading so many lovely messages from so many friends. I even have some cards, you know, the sort they used to send in the olden days.
Truman has a cameo by an extremely dreamy Dutch actor, aged maybe 21 or 22. It kind of made me envious for my lost youth, but I never looked like that, or maybe I did a bit, but never appreciated it then. But the good thing about being 47 is I'm sharing moments with and getting messages from people, like Lezly, who I've known for a long time, but I'm still making new friends as well.
When I drove someone home from my 19th birthday party, I was scared that people wouldn't like me if I told them I was gay. I don't have to think like that anymore.
It's some compensation for getting my first grey eyebrow.