When my friend Caroline and I visited the US Library of Congress in August 2016, there was a special exhibition of the composer Marvin Hamlisch's awards, which needed a considerable amount of room, largely as a result of three amazing years.
At the Oscars in 1974, Cher called him Marvin Hamschmish, then Hamilschmish.
But when he won his third Oscar for the night, he started by saying, 'I feel we can talk as friends because I think I know you.'
In 1975, he won four Grammys. Three of them are below.
In 1976, it was a Tony award and the Pulitzer Prize. They're two of the awards inside this case:
He didn't win any Emmys then, but by the time he died he had four. Here are three, plus two of his Oscars: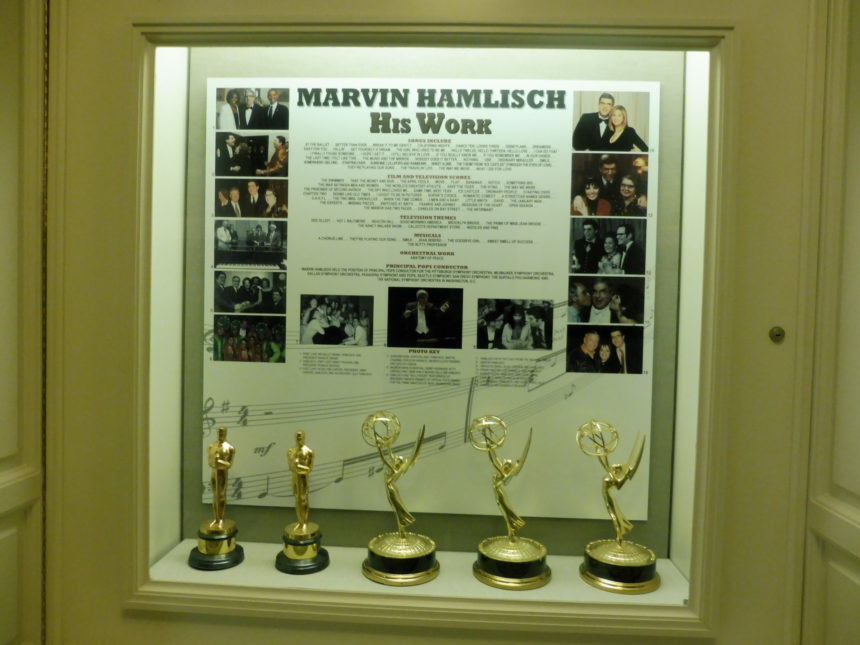 His most famous and awarded work was for The Sting, The Way We Were and A Chorus Line.
Has anyone in show business had a run like this?
There was someone whose musical Chicago competed with A Chorus Line at the 1976 Tonys: Bob Fosse.
On 25 March 1973, Fosse won two Tonys (for directing and choreographing Pippin).
Two days later, he won the Best Director Oscar for Cabaret. He said that 'being characteristically a pessimist and cynic, this and some of the other nice things that have happened to me the last couple days may turn me into some sort of hopeful optimist and ruin my whole life'.
And less than two months after that, he picked up three Emmys for producing, directing and choreographing Liza With a "Z". Life ruined.
Most people think of Bob Fosse as a choreographer and director of musicals.
But if you said, 'Bob Fosse, he directed film dramas,' that wouldn't be wrong, because in 1975, he got a Best Director Oscar nomination for a black and white Dustin Hoffman film called Lenny.
And if you insisted that he was a playwright, that would also be correct because the following year, in addition to nominations for direction and choreography, he was nominated for Best Book of a Musical.
Oh, and if you called him a screenwriter, you'd be telling the truth, because in 1980 he was nominated for a screenplay Oscar for All That Jazz, in addition to one for directing.
Then there was the Tony nomination he got as an actor …
Could anyone out-do that?
Well, every year that Bob Fosse was up for the Best Director Oscar, so was Francis Ford Coppola.
Fosse's win in 1973 was a major surprise, as Coppola's movie was The Godfather. But Coppola still picked up a screenplay Oscar then.
In 1975, he won Best Director for The Godfather Part II. That also won Best Picture, which meant he had another Oscar as a producer. He risked splitting his vote, because another film he produced, The Conversation, was up for the same award. He also got a screenplay award for The Godfather Part II, and was nominated (in the other screenplay category) for his work on The Conversation.
Plus he directed his father to a win that year (for his music) and his sister Talia Shire to a nomination (for her acting).
Between those two years, he was nominated as a producer for American Graffiti.
And before any of that, he won a screenplay Oscar for Patton in 1971.
In five years, three movies that he wrote won the Oscar for Best Picture.
Now granted, some of the above awards and nominations were shared with other people, but even still, I have to ask:
Could anyone match that?
Well, in five years, Coppola's sister appeared in three movies that won the Oscar for Best Picture (The Godfather, The Godfather Part II and Rocky).
I don't think anyone else has done that, though Diane Keaton ran her close, by appearing with her in the first two Godfather movies and then Annie Hall the year after Rocky.
And Meryl Streep appeared in three Best Pictures in eight years, but also was nominated every time for her acting, winning once, in the movie Kramer vs. Kramer, which also beat out Fosse and Coppola for their third directing nominations.
I'm still hoping to add to the English Prize I won in Year Twelve …