The past week in Perth saw an outpouring of nostalgia for the WACA Ground, which may well have just staged its last cricket Test match. I was there on Day 4, and after donating a gold coin, for just enough of Day 5 to see the Ashes change back into Australian hands.
In 2013, when Sam and I were watching Macbeth at the Globe in London …
… England was thrashing Australia in a Test on the other side of town. Sam used every opportunity to show me updates of the slaughter on his phone, so this prompted me last week to send him a few updates of my own …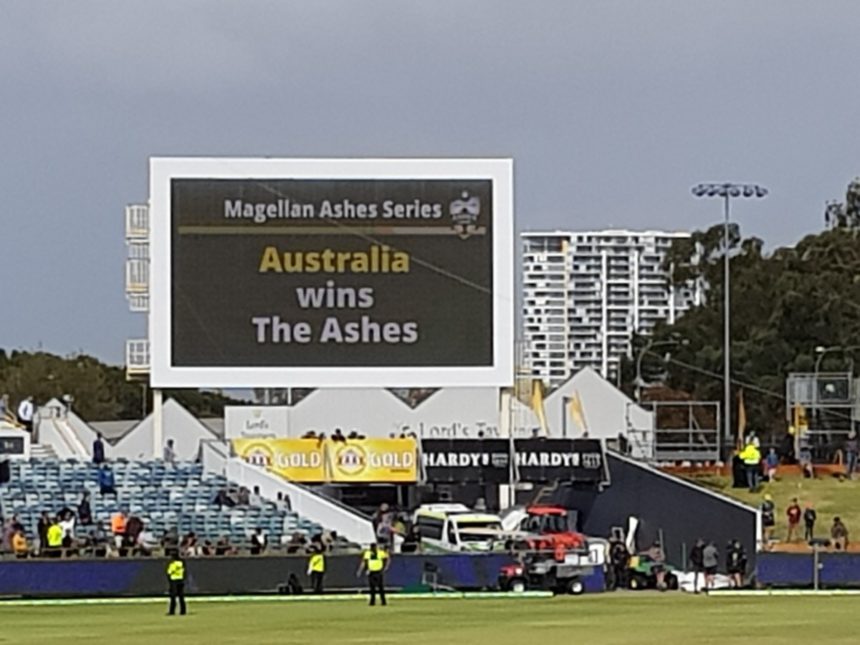 Was that petty? Was that wrong?
On Day 4, I got both sunburnt and drenched, which had only ever happened to me in Melbourne.
A friend told me that she didn't like Test cricket because you could play for so long and still get a draw. But that was what made the last two days of this match interesting. Would the rain and England's batting last long enough to stop Australia winning? In the end, no, but it started raining again only an hour or so after the match, something which I may have pointed out to Sam.
*****
No-one seemed to know what to do with the WACA. I was there in 1988, the afternoon they opened the Lillee Marsh stand, which was part of a drive to make the ground into a big, modern arena.
Later, they downsized things. Despite the sunburn and the rain, I liked stretching out on the grassy banks they won't have at Perth Stadium. But they never quite finished the job. They were still using temporary toilets, though these were in better condition than some of the permanent facilities.
For a time, it seemed that every time I went, they called it 'The WACA's blackest day'. I was there when Terry Alderman was injured during a crowd invasion. I was there when the West Indies bowled out Australia for 76. Though I missed, by one day, watching Dennis Lillee kick Javed Miandad and only saw him throw away his aluminium bat on TV.
I attempted a memorable moment of my own. In 2000, the day Glen McGrath took a hat trick and his 300th Test wicket, I tried to persuade a friend to upstage him by becoming the first heavily pregnant streaker in a Test match. ('What are they going to do? Put you in jail?') But sadly, she declined …