I am an example of the success of Star Wars. I've never been a fan, yet I saw the original 1977 film twice as an eight-year-old at the Hoyts Cinema in Wanamba Arcade off Hay Street Mall in Perth: once on a school excursion organised by our music teacher Mr Southwell.
Three years later, I saw The Empire Strikes Back, which had been released in Sydney earlier, even though I already knew the spoiler. Paul Hodgetts, my old school friend who moved Sydney, told my class in a letter (remember them?) that Darth Vader was Luke's father.
One of my books about movies said that Return of the Jedi got bad reviews, but no-one read them in the rush to see the film. The Hoyts Cinema in City Arcade had a special queue. I got to see how the first trilogy ended.
A few years later, I saw all three movies in one day at one of the lecture theatres of the WA Institute of Technology (as Curtin University was then called).
I saw Star Wars characters on Sesame Street, a send-up featuring Luke Sleepwalker, and even The Star Wars Christmas Special, with Bea Arthur before she was one of the Golden Girls.
So George Lucas made a fair bit out of someone who was never a fan.
In 1977, I wondered why a music teacher would organise an excursion to see a science fiction movie. I found the answer this week  at the Teatro Colón in Buenos Aires, where I saw a concert version of the original film.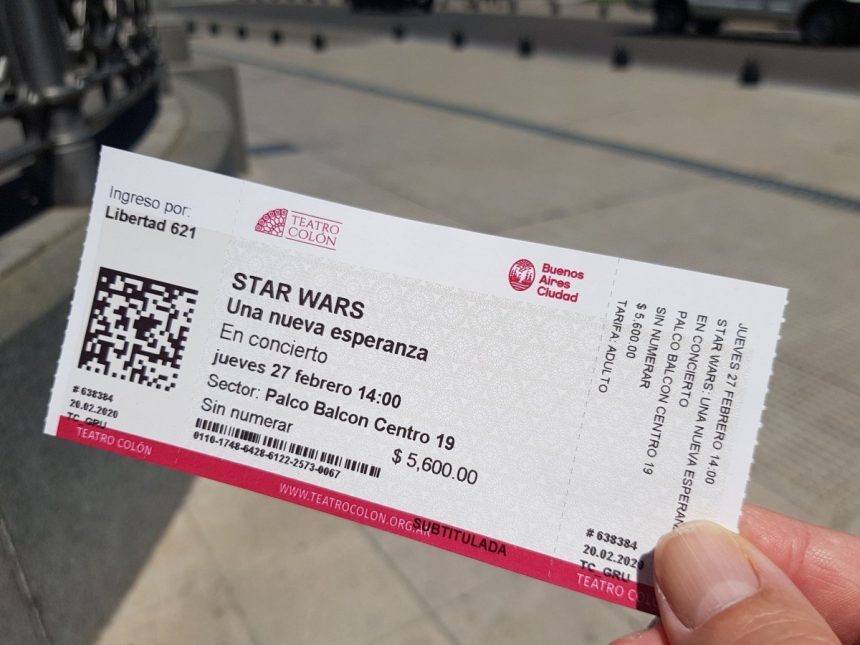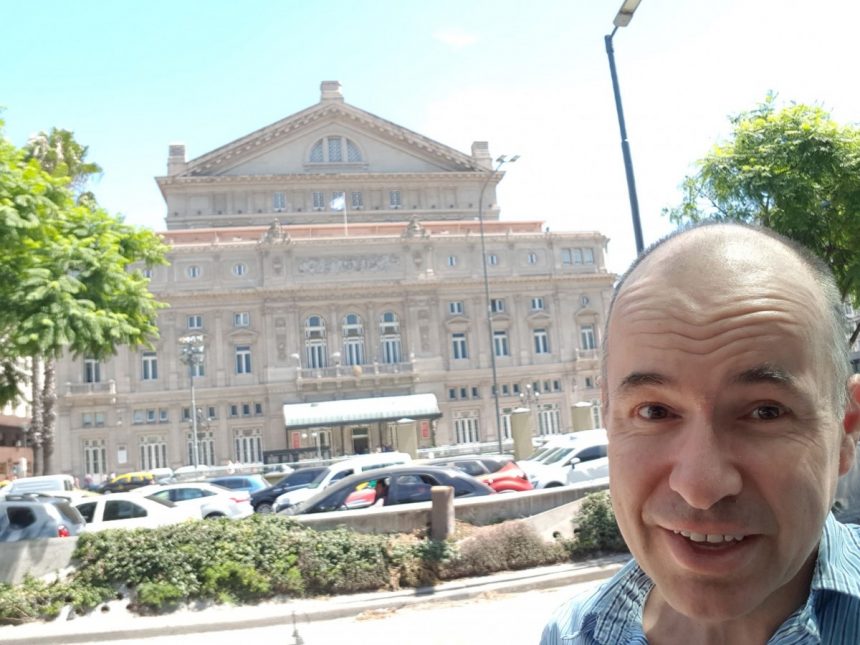 Before, I met a Jedi …
… and a few, well, I don't know who they were as I'm not a fan …
… as a small group of musicians played.
I sat in one of the boxes. There were two couples with me. Three of us didn't have a totally clear view. We eyed off the box next door, which didn't contain anyone until five minutes before the start, when a woman who I don't know but will always hate (well not really) went in and had it all to herself. But the five of us arranged ourselves well so I saw about ninety per cent of the screen.
At the last minute, a guy of about nineteen joined us, and I wondered how he could afford the seat. He told me that other shows were cheaper. He might have had a cheaper ticket to this one as well. Seat control in the theatre was quite relaxed. Good luck to him if he had.
When the house lights went down, Darth Vadar appearing in the middle of the stalls. Storm troopers emerged from different boxes. The conductor came out handcuffed in a brown robe, but they released him.
The film began. It soon became obvious that I was not at the WA Institute of Technology. The live orchestra played all the music from the film, except for the scene in the bar, where we heard the soundtrack. The sound of the music was as clear as I expected from one of the world's greatest opera houses. Surprisingly, we found it hard at times to hear the voices of the actors from the soundtrack. It didn't matter. I relied a fair bit on the Spanish subtitles, which I understood more than I ever could before.
The younger couple reached out to hold hands at key moments during the show. I was very happy for them.
The movie still looked good overall, though this was partly because it was the version that George Lucas revised in 1997. A few features were dated. There were only two roles for women in the entire picture. Although Princess Leia had a lot of spunk and was not at all a helpless heroine, in the final battle scenes, she was relegated to an onlooker. Most jarring was that C3PO was basically a slave, bought in a slave market. He was supposedly a robot, but in reality a camp guy in a golden suit.
There were no black or Asian actors on screen, though the voice of James Earl Jones as Darth Vader resonated more than any of the performers we did see, which, in a cast that included Alec Guinness, was a great achievement. The script gave all the main cast a lot to work with, except Peter Cushing, whose character, in my view, could have been fleshed out more.
It's a long time before we see Mark Hamill and even longer before Harrison Ford appears. Neither were well-known when the movie was made. A big star might have demanded an earlier entrance, to the detriment of the picture.
We had an intermission as the heroes reached the Death Star. At the end of the film, the orchestra played an encore.  Darth Vadar and a stormtrooper led the conductor away. I've always believed that orchestras don't really need conductors, and in this case, the band kept playing, if only for a short time.
I'd taken tours inside Teatro Colon, but I'd never been to a concert here. Not a bad way to start. I'll be back!
The Disney company now has responsibility for Star Wars (well, at least some of it). I wondered what Walt Disney himself would have thought of the movie. I think he would have liked the moral messages and the Christian overtones, but wouldn't have been keen on some of the violence. When the movie was first released in Australia, the censors rated it NRC – Not Recommended for Children. I doubt that any recommendation has been flouted more in history.
Well Mr Southwell, after forty-three years, I finally get it. I think you wanted to show us the importance of what you were teaching us. Music was never the trendiest subject at my school, yet it contributed enormously to the success of the trendiest film we all saw, and when I say all, that's exactly what I mean.